Donald Trump to win US Presidential Election 2020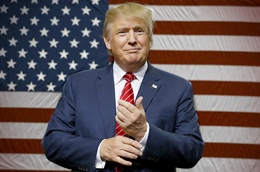 | | |
| --- | --- |
| Trading start | Sunday, May 28, 2017 1:00:00 PM GMT |
| Trading end | Wednesday, November 4, 2020 9:00:00 PM GMT |
| Event date | Wednesday, November 4, 2020 9:00:00 PM GMT |
| Event | US Presidential Elections 2020 |
| Long shares | Long shares have been resolved at m฿ 0.00 |
| Short shares | Short shares have been resolved at m฿ 10.00 |
| Volume (total) | 599 shares |
| Volume (7 days) | 22 shares |
| Resolution Details | Joe Biden won the 2020 US elections. |
Price History
Contract Details
Long shares win if Donald Trump is re-elected as the new US President in 2020.

About the election

The United States presidential election of 2020, scheduled for Tuesday, November 3, 2020, will be the 59th quadrennial U.S. presidential election. Voters will select presidential electors who in turn will either elect a new president and vice president through the electoral college or re-elect the incumbents. The series of presidential primary elections and caucuses are likely to be held during the first six months of 2020. This nominating process is also an indirect election, where voters cast ballots selecting a slate of delegates to a political party's nominating convention, who then in turn elect their party's presidential nominee.

Contract Rules

If the election is not held in 2020, long shares will be resolved at m฿0, short shares resolved at m฿10.
Any open orders to buy or sell shares are the responsibility of the account holder and any trades made after the new President is announced will not be reverted. Any changes to the result after the market has expired will not be taken into account.

Tip

Sell this contract if you think Donald Trump will

not

be re-elected as the new US President in 2020. Find out more about selling shares without owning any here.
---