Hillary Clinton to win US Presidential Election 2016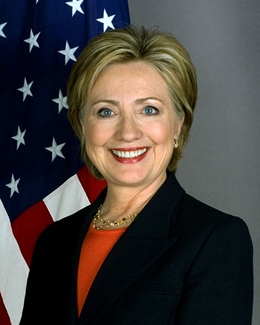 | | |
| --- | --- |
| Trading start | Sunday, June 16, 2013 10:00:00 AM GMT |
| Trading end | Wednesday, November 9, 2016 3:00:00 AM GMT |
| Event date | Wednesday, November 9, 2016 3:00:00 AM GMT |
| Event | US Presidential Election 2016 Winner |
| Long shares | Long shares have been resolved at m฿ 0.00 |
| Short shares | Short shares have been resolved at m฿ 10.00 |
| Volume (total) | 74897 shares |
| Volume (7 days) | 9196 shares |
| Resolution Details | Donald Trump won the US elections. |
Price History
Contract Details
Long shares win if Hillary Clinton is elected as the new US President in 2016, succeeding to Barack Obama.

About Hillary Clinton

Hillary Diane Rodham Clinton is a former United States Secretary of State, U.S. Senator, and First Lady of the United States. She was the 67th Secretary of State from 2009 to 2013, serving under President Barack Obama. She previously represented New York in the U.S. Senate (2001 to 2009). Before that, as the wife of President Bill Clinton, she was First Lady from 1993 to 2001. In the 2008 election, Clinton was a leading candidate for the Democratic presidential nomination.

About the election

The United States presidential election of 2016 will be the 58th quadrennial U.S. presidential election and is scheduled for Tuesday, November 8, 2016. Presidential electors who will elect the President and Vice President of the United States will be chosen. The incumbent president, Barack Obama, is ineligible to be elected to a third term due to term limits in the Twenty-second Amendment to the United States Constitution. Article Two of the United States Constitution stipulates that for a person to be elected and serve as President of the United States, the individual must be a natural born citizen of the United States, a minimum of 35 years old, and a resident of the United States for no less than 14 years. If a candidate is a member of one of the various political parties of the United States, each party will devise a method (such as a primary election) to choose the candidate the party deems best suited to run for the position and the party members will officially nominate the candidate in question to run on behalf of the party as a whole.

Contract Rules

If the election is not held in 2016, long shares will be resolved at m฿0, short shares resolved at m฿10.
Any open orders to buy or sell shares are the responsibility of the account holder and any trades made after the new President is announced will not be reverted. Any changes to the result after the market has expired will not be taken into account.

Tip

Sell this contract if you think Hillary Clinton will

not

be elected as the new US President in 2016. Find out more about selling shares without owning any here.
---