Donald Trump to be the Republican nominee for the Presidency of the United States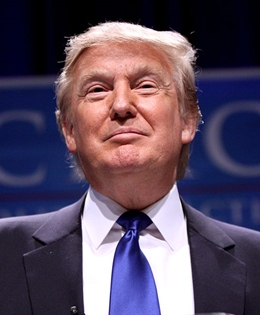 | | |
| --- | --- |
| Trading start | Saturday, January 18, 2014 4:00:00 PM GMT |
| Trading end | Saturday, July 30, 2016 8:00:00 PM GMT |
| Event date | Saturday, July 30, 2016 8:00:00 PM GMT |
| Event | Republican Presidential Primaries 2016 |
| Long shares | Long shares have been resolved at m฿ 10.00 |
| Short shares | Short shares have been resolved at m฿ 0.00 |
| Volume (total) | 23317 shares |
| Volume (7 days) | 0 shares |
| Resolution Details | Donald Trump won the Republican nomination. |
Price History
Contract Details
Long shares win if Donald Trump is elected as the Republican nominee for the 2016 Presidency of the United States.

About the Republican Party presidential primaries

The Republican Party presidential primaries, 2016 will take place within the Republican Party prior to the 2016 general election. In anticipation of the primaries, the Republican National Committee began polling email subscribers as to their choice for the nomination among 32 potential nominees, telling its supporters, "The battle for the White House has already begun."

Contract Rules

If the Republican Party presidential primaries are not held in 2016, long shares will be resolved at m฿0, short shares resolved at m฿10.
Any open orders to buy or sell shares are the responsibility of the account holder and any trades made after the Republican nominee is announced will not be reverted. Any changes to the result after the market has expired will not be taken into account.
---