The United Kingdom to leave the European Union in 2016 or 2017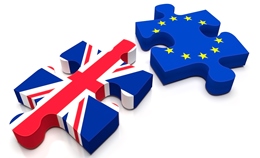 | | |
| --- | --- |
| Trading start | Thursday, February 18, 2016 9:30:00 PM GMT |
| Trading end | Monday, January 1, 2018 12:00:00 AM GMT |
| Event date | Monday, January 1, 2018 12:00:00 AM GMT |
| Event | Brexit: UK to leave EU |
| Long shares | Long shares have been resolved at m฿ 0.00 |
| Short shares | Short shares have been resolved at m฿ 10.00 |
| Volume (total) | 804 shares |
| Volume (7 days) | 0 shares |
| Resolution Details | The UK hasn't left the EU in 2016-2017, as of date it's scheduled for March 29th 2019. |
Contract Details
Long shares win if the United Kingdom leaves the European Union in 2016 or 2017.

About the UK and the European Union

The United Kingdom European Union membership referendum is scheduled to take place in the UK and Gibraltar before the end of 2017. Membership of the European Union has been a controversial issue in the United Kingdom since the country joined the then European Economic Community in 1973. The European Union Referendum Act 2015 which provides for the referendum was passed by the British Parliament. The Act follows a Conservative Party manifesto commitment to hold such a referendum. It will be the second referendum to be held on EU membership in the UK.

Contract Rules

Long shares will resolve at m฿10 and short shares at m฿0 if the exit of the United Kingdom from the European Union is effective in 2016 or 2017.
Any open orders to buy or sell shares are the responsibility of the account holder and any trades made after the result is announced will not be reverted. Any changes to the result after the market has expired will not be taken into account.

Tip

Sell this contract if you think the UK will

not

exit the European Union in 2016/2017. Find out more about how you can sell shares without owning any here.
---