Pistorius to be found guilty of premeditated murder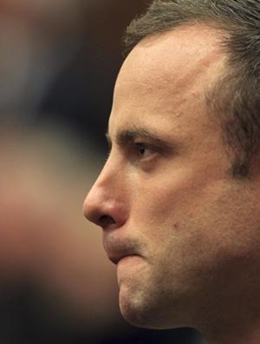 | | |
| --- | --- |
| Trading start | Tuesday, March 11, 2014 8:00:00 PM GMT |
| Trading end | Thursday, September 11, 2014 8:00:00 PM GMT |
| Event date | Thursday, September 11, 2014 8:00:00 PM GMT |
| Event | Pistorius trial |
| Long shares | Long shares have been resolved at m฿ 0.00 |
| Short shares | Short shares have been resolved at m฿ 10.00 |
| Volume (total) | 47 shares |
| Volume (7 days) | 0 shares |
| Resolution Details | Oscar Pistorius was found not guilty of premeditated murder. |
Contract Details
Long shares win if Oscar Pistorius is found guilty of premeditated murder.

About Oscar Pistorius

Oscar Pistorius is a leading South African runner, who won attention as an athlete with a disability competing at a high level, including multiple Paralympic Games and the 2012 Summer Olympics. His girlfriend was Reeva Steenkamp, a model. In the early morning of Thursday, 14 February 2013, Steenkamp was shot and killed by Pistorius at his Pretoria home. Pistorius was taken into police custody and was formally charged with murder in a Pretoria court on 15 February.

About the Trial of Oscar Pistorius

The trial of Oscar Pistorius is taking place in South Africa. It started on Monday 3 March 2014. On the first day of the bail hearing, Magistrate Nair ruled that for the purposes of the bail hearing Pistorius was charged with a Schedule 6 criminal offence, which relates to serious crimes including premeditated murder and requires exceptional circumstances for release on bail. The prosecutor's opening statement noted that the murder case against Pistorius is based largely on circumstantial evidence, as there were no eyewitnesses to the incident. Pistorius pleaded not guilty to all the charges against him, including murder and three gun-related charges.

Contract Rules

This contract is based on the current ongoing trial, appeals after the end of this trial will not affect settlement.
If Oscar Pistorius is found

not

guilty, or guilty of a lesser charge (such as culpable homicide), or if Oscar Pistorius negotiates a deal that does not require admission of guilt of premeditated murder, long shares will be resolved at m฿0, short shares resolved at m฿10.
If the trial is cancelled (for example in case of death of Oscar Pistorius), long shares will be resolved at m฿0, short shares resolved at m฿10.
Any open orders to buy or sell shares are the responsibility of the account holder and any trades made after the outcome of the trial is known will not be reverted. Any changes to the result after the market has expired will not be taken into account.

Tip

Sell this contract if you think Oscar Pistorius will

not

be found guilty of premeditated murder. Find out more about selling shares without owning any here.
---