Phantom Thread to win the 2018 Oscar for Best Picture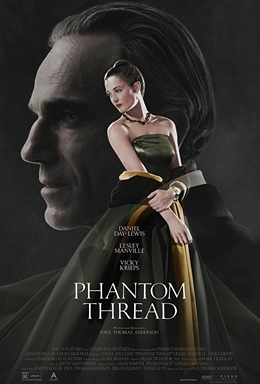 | | |
| --- | --- |
| Trading start | Wednesday, February 7, 2018 6:00:00 PM GMT |
| Trading end | Monday, March 5, 2018 8:00:00 AM GMT |
| Event date | Tuesday, March 5, 2019 8:00:00 AM GMT |
| Event | Oscars 2018 Best Picture |
| Long shares | Long shares have been resolved at m฿ 0.00 |
| Short shares | Short shares have been resolved at m฿ 10.00 |
| Resolution Details | This contract was resolved on Saturday, November 3, 2018 7:39:18 PM UTC. |
Price History
Contract Details
Long shares win if Phantom Thread wins the 2018 Academy Award for Best Picture.

About the Oscars

The 90th Academy Awards ceremony, presented by the Academy of Motion Picture Arts and Sciences (AMPAS), will honor the best films of 2017 and will take place at the Dolby Theatre in Hollywood, Los Angeles, California at 5:00 p.m. PST on March 4, 2018.

About the Oscar for Best Picture

The Academy Award for Best Picture is one of the Academy Awards of Merit presented to producers working in the film industry and is the only category in which every member is eligible to nominate for. Best Picture is considered the most important of the Academy Awards, as it represents all the directing, acting, music composing, writing, editing and other efforts put forth into a film.

Contract Rules

If there is no Academy Award in 2018 or if there is not a unique film which wins the Academy Award for Best Picture: long shares will be resolved at m฿0, short shares resolved at m฿10.
Any open orders to buy or sell shares are the responsibility of the account holder and any trades made after the best picture is announced will not be reverted. Any changes to the result after the market has expired will not be taken into account.

Tip

Sell this contract if you think Phantom Thread will

not

win the 2018 Oscar for Best Picture. Find out more about selling shares without owning any here.
---