300 Bitcoins to be worth more than a share of Class A Berkshire Hathaway Stock on March 31st 2015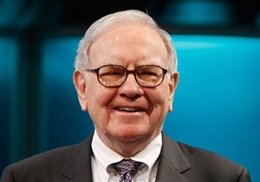 | | |
| --- | --- |
| Trading start | Sunday, March 23, 2014 2:30:00 PM GMT |
| Trading end | Tuesday, March 31, 2015 8:00:00 PM GMT |
| Event date | Tuesday, March 31, 2015 8:00:00 PM GMT |
| Event | Bitcoin vs Berkshire Hathaway |
| Long shares | Long shares have been resolved at m฿ 0.00 |
| Short shares | Short shares have been resolved at m฿ 10.00 |
| Volume (total) | 3 shares |
| Volume (7 days) | 0 shares |
| Resolution Details | The close price of the Market Rate of NYSE:BRK.A on March 31st 201 was $217,500, while the close price of Bitcoin at 10 pm ITC was $242.92, so 300 BTC ($72,876) was worth less than a share of Class A Berkshire Hathaway Stock. |
Contract Details
Long shares win if the price of 300 Bitcoins is greater than (or equal to) the price for a share of Class A Berkshire Hathaway Stock on March 31st 2015 at 8pm UTC.

About Berkshire Hathaway Inc.

Berkshire Hathaway Inc. is an American multinational conglomerate holding company headquartered in Omaha, Nebraska, United States, that oversees and manages a number of subsidiary companies. The company wholly owns GEICO, BNSF, Lubrizol, Dairy Queen, Fruit of the Loom, Helzberg Diamonds and NetJets, owns half of Heinz and an undisclosed percentage of Mars, Incorporated and has significant minority holdings in American Express, The Coca-Cola Company, Wells Fargo, and IBM. Berkshire Hathaway averaged an annual growth in book value of 19.7% to its shareholders for the last 48 years (compared to 9.4% from S&P 500 with dividends included for the same period), while employing large amounts of capital, and minimal debt.

About Warren Buffett and Bitcoins

The Berkshire Hathaway company is known for its control by investor Warren Buffett, who is the company's chairman, president and CEO, and Charlie Munger, the company's vice-chairman. In March 2014, Warren Buffett warned investors to "stay away" from Bitcoin, calling it "a mirage" when asked about the digital currency's long-term potential. He also mentioned it lacks intrinsic value, though he conceded that they are an efficient way to transfer dollars.

Contract Rules

Predictious will use the close price of the Market Rate of NYSE:BRK.A on March 31st 2015. Dividends won't be taken into consideration.
Predictious will use the Bitcoin close price for March 31st 2015 at 20:00:00 UTC from Bitstamp (USD) using Bitcoin Charts (see details below). If that information is not available, or if Bitstamp (USD) was not operating at that time, or if Bitcoin Charts is not able to provide this information, Predictious will use another equivalent source of information. Source: bitcoincharts Row: 2015-03-31 19:00:00 (Resolution: Hourly) Column: Close
Any open orders to buy or sell shares are the responsibility of the account holder and any trades made after the price is determined will not be reverted. Any changes to the result after the market has expired will not be taken into account.

Tip

Sell this contract if you think the price of 300 Bitcoins will be strictly

under

the price for a share of Class A Berkshire Hathaway Stock on March 31st 2015 at 8pm UTC. Find out more about how you can sell shares without owning any here.
---